---
Conference Speakers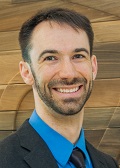 Nathan Stodola
Chief Engineer, International WELL Building Institute
BIOGRAPHY
Nathan Stodola is Chief Engineer in the Standard Development team at IWBI. In this role, he helps guide the development of the WELL Building Standard, including this year's release of WELL v2. He is also the acting Concept Lead for Water, Air & Thermal Comfort.
---
Tuesday, October 02
3:00 pm - 4:00 pm
IAQ: Advanced Through Sensors & Standards
The WELL Building Standard: Rating a Building's Performance, Design, and Operations
The WELL Building Standard marries best practices in design and construction with evidence-based health and wellness interventions to create a space focused on the building occupants. WELL Certification relies on a third-party review of design and policy strategies and an on-site assessment of environmental conditions covering topics in air, water, nourishment, light, movement, thermal comfort, sound, mind, and community.