---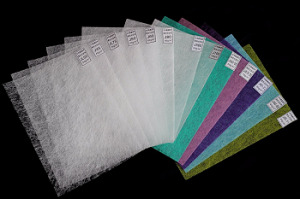 Baoji Jiaxin Filter Materials Tech. Co., Ltd.
Booth #521
Baoji Jiaxin Filter Materials Technologies Co.,Ltd, was founded in 2006. In April 2016, it was restructured into Baoji Jiaxin Filter Material Technology Co., Ltd. Its predecessor was Shaanxi Baoji Jiate Filter Material Tech.Co., Ltd., a professional production manufacturer in wet process of nonwoven fabrics.
Our company produces 30-120g/m2 wet polyester & glass fiber non-woven fabric, product width 1300-2700mm. The company has 58 college degree staff and 16 professional technical personnel.
The company has complete product research and development, technical testing and product quality assurance. There are two nonwoven fabric professional production lines with an annual production capacity of 30 million square meters.
The products are suitable for the framework support layer of air filtration and liquid filtration composite filter material, the reinforced material of SBS & APP modified waterproof material, the electric insulation material of battery and the insulating material of heat insulation.
It is an ideal composite support material for HEPA material. Suitable for household air purification and automobile air conditioning, central air conditioning, fresh air system HVAC and large scale indoor cleaning, etc.
---