---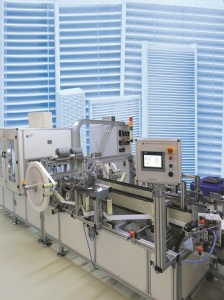 A2Z Filtration Specialities Pvt Ltd.
Booth #430
A2Z Intelligent Servo Filter Framing lines
A2Z Intelligent Servo Filter Framing and Side Banding Lines are popular with manufacturers of Cabin Filters & HVAC Air Filters.
These lines help automate the assembly process of frame and side banded filters with a production range from 150mm (6") to 700mm (28") working width, Pleat depth range 25mm (1") to 150mm (6"). Automatic cutting with tolerances of up to ± 1 mm, Production rate up to 6-8 filters per minute. Suitable for various frame profile I, V, C, L.
The system is servo driven with 7 axis servo driven system. The system is suitable for different media like Synthetic's, Glass fibre, Activated carbon, Laminates etc… Inline conversion of frame roll material to the required frame profile (I, V, C, L), Possibility of framing on 2 side and or 4 side of filter.
Wide range of side framing material- Nonwoven, Spun Bonds, Laminated card boards can be processed. It allows quick changeover, designed for online framing of filter. The system offers a cost effective, fit to purpose product.
---